OFFICE COFFEE / HORECA MACHINE RANGE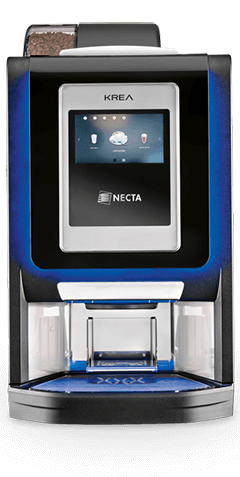 With it's distinctive looks and chrome features Krea Touch is a great option for offices looking to serve quality coffee drinks without the need for fresh milk.
The Touch is easy to use, by staff and in self-service mode. Just a touch, and anybody can get a high quality drink.
The Krea Touch is capable of serving medium volume requirements with one touch ordering and uses powdered milk as opposed to fresh milk. Ideal for locations that need easy cleaning or do not have the storage available for fresh milk machines.
Choice of quality drinks
Powdered milk system
7 Inch HD touch screen
One touch drink preparation
Easy to clean & maintain
Large capacity
Custom external colour lighting
Compact espresso boiler
Advanced electronics
LAN, WiFi and Bluetooth connectivity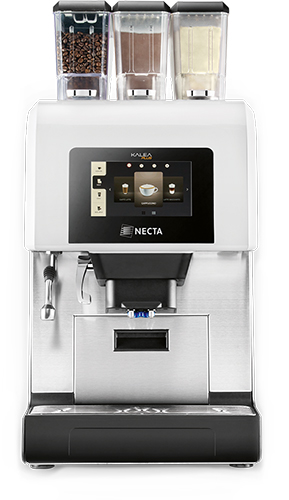 The Kalea Touch offers both quality espresso and regular coffee based drinks combined with fresh milk.
It the ultimate way of offering quality coffee from a delicious menu of coffee drinks, all of them perfectly made, from the authentic Italian espresso to frothy cappuccino and latte macchiato and many more. It's Italian quality coffee at your fingertips..
The Kalea Touch is easy to use, by staff and in self-service mode. Just a touch, and anybody can get a high quality drink.
The Kalea Touchuses cutting edge technology together with the heritage of Italian espresso, taste and culture.
7″ colour menu touchscreen
Automatic milk frother
Coffee shop quality beverages
Customisable drinks menu
On screen guided cleaning process
2 bean and 1 chocolate hopper
Hot water wand option
State-of-the-art technology
Recommended for 200 drinks a day
Embedded WiFi and Bluetooth connectivity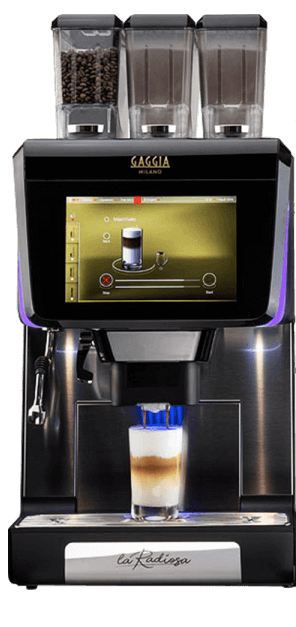 The La Radiosa boasts a stunning 10″ HD touchscreen interface that guides the user through the drink process. Custom drink icons can be created and the colour LEDs of the machine can be changed to create the right type of ambience.
La Radiosa benefits from brand-new Gaggia Milano EvoMilk technology, which allows users to set-up various doses, temperatures and densities of fresh milk, but also to drink hot and cold perfectly foamed milk.
In addition to its compact dimensions, La Radiosa offers great flexibility. You can specify one or two bean hoppers, with one or two soluble powder containers.
Stylish design
10" full HD touchscreen
Customisable User Interface
Self service or Barista configurable User Interface
LEDs lateral stripes (up to 256 colours)
Hot and cold foamed milk
Independent hot water outlet
Hot water bypass for Americano
Energy saving: soft and deep mode
Wifi and Bluetooth connectivity

Automatic rinsing cycles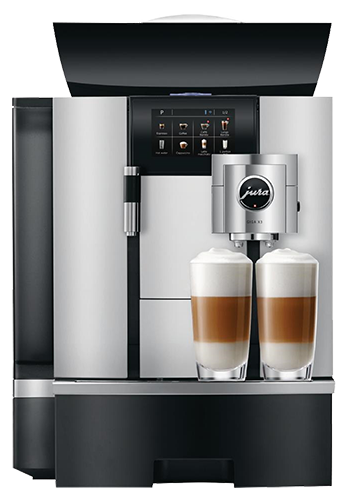 Swiss innovation and professionalism down to the very last detail. With its own integral water tank the machine can serve up to 150 cups. A high-tech automatic coffee machine that is ideally tailored to the requirements of large offices, the breakfast, seminar and conference venue sectors as well as self-service areas.
The GIGA X3c features a sophisticated height-adjustable dual spout, which finishes off trend specialities with milk and milk foam to perfection thanks to fine foam technology. The speed function ensures speciality coffees in record time.
Barista quality drinks
Fresh milk system
Recommended for 150 cups / day
One touch drink preparation
32 drinks options
Integrated rinsing and cleaning
Integrated descaling program
Audit facility
Reliable Swiss technology
High performance ceramic grinder
Matching accessories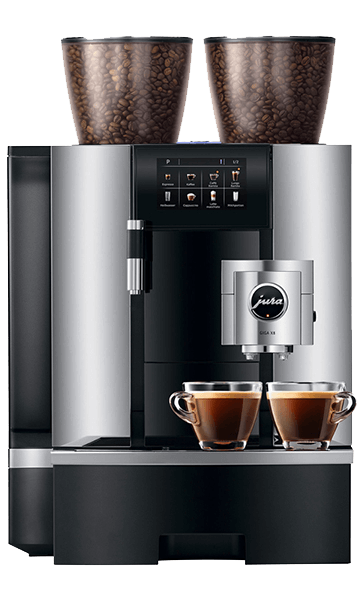 The high-performance GIGA X8 Professional with its elegant finish comes with a unique speed function, allowing it to prepare perfect coffee in record time.
The speed function and time-saving, intuitive operation make the GIGA X8 Professional ideal for use in catering. A large water tank and coffee grounds container allow for flexible and mobile use.
User-friendly with TFT display, the machine heats the milk at the same time as it brews the coffee to produce perfectly presented and great tasting beverages every time.
Featuring a new micro foam frother that produces fantastically creamy milk foam perfect for delicious lattes and cappuccinos.
Stylish design
Serves up to 200 cups / day
29 speciality coffee beverages
High speed dispense time
2 ceramic grinders
Automatic grinder adjustment
Touch screen display
Integrated maintenance programs
Large water tank
Adjustable dispense head to fit all heights of cups and glasses

Automatic descaling program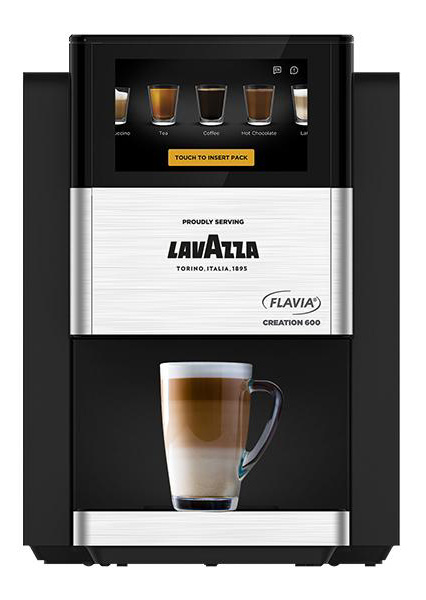 The LAVAZZA 600 was designed to create better breaks. With the C600, you can craft a variety of drink options that meet the needs of every moment while smart technology makes managing office beverages a breeze.
Large range of drinks including teas.
The C600 was designed with hygiene top-of-mind: you can brew straight from your phone with the LAVAZZA® Tap N'Brew App.
The Tap N' Brew App mirrors the brewer screen's functionality so you can order and customise your drink—right from your phone.
Top quality drinks
Capsule system
No clean-up, no mess
Automatic cup stand
Can froth any drink
Hands free operation
Intuative touchscreen interface
Energy rating A+
Industry leading reliability
Styish modern design
Plumbed or jug fill

Address
Unit 1, Maguire Court
Saxon Business Park
Hanbury Road,
Stoke Prior
Bromsgrove
B60 4AD
Contact
T: 01527 388230
E: info@completerefreshmentsolutions.co.uk