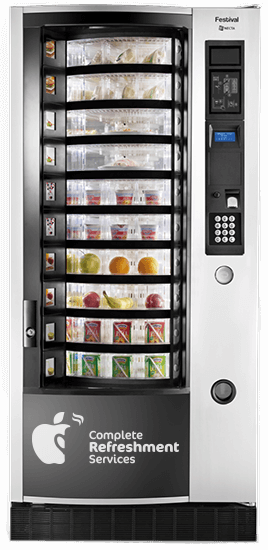 The smart solution for places needing to offer catering services 24/7. Not just a vending machine but a true automatic canteen.
The extreme flexibility of configuration allows the user to choose among snacks, drinks, fresh dishes, fruit and yoghurt. The enhanced electronics of Festival offers an advanced machine and products management.
Stock products into individual compartments on ten rotating shelves and easily configure trays to hold selections from plated main meals to small snack items.
24/7 catering service
Flexible configuration
Versatile compartment sizes
Serves fruit, sandwiches even plated meals
Front panel LED lighting
Direct selections
Up to 3 payment systems
Large glass frontage
Data retrieval
4 price areas per disk
Easy to clean compartments
Internal storage area
Low energy consumption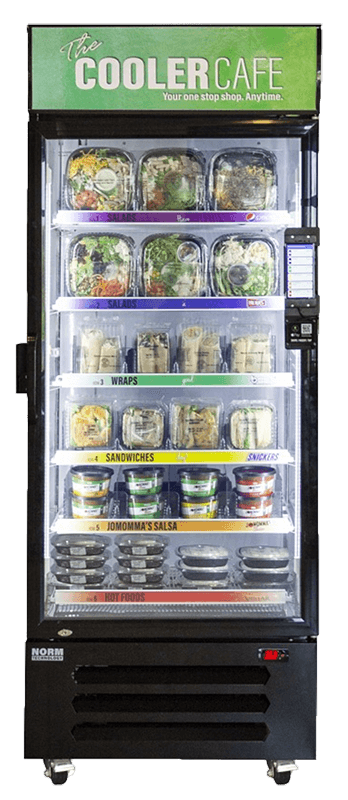 The cooler cafe is our latest innovation in break room technology. This unit comes standard with a cooler lock, attached kiosk, and credit card reader. Your customers will be able to select an item and purchase within seconds.
Users simply select a product and pay. After payment the door unlocks and customer grabs their product and the door closes.
Great for all sized locations. The Cooler Cafe can be a stand-alone food solution or a complement to existing markets, vending or cafe locations.
Available 24/7
One-stop-shop
Easy to use
Door unlocks upon payment
Chilled temperature control
Double pane glass
5 shelves
Large selection of products
Beverages, food, snacks and drinks
Contactless payment systems

Address
Unit 1, Maguire Court
Saxon Business Park
Hanbury Road,
Stoke Prior
Bromsgrove
B60 4AD
Contact
T: 01527 388230
E: info@completerefreshmentsolutions.co.uk