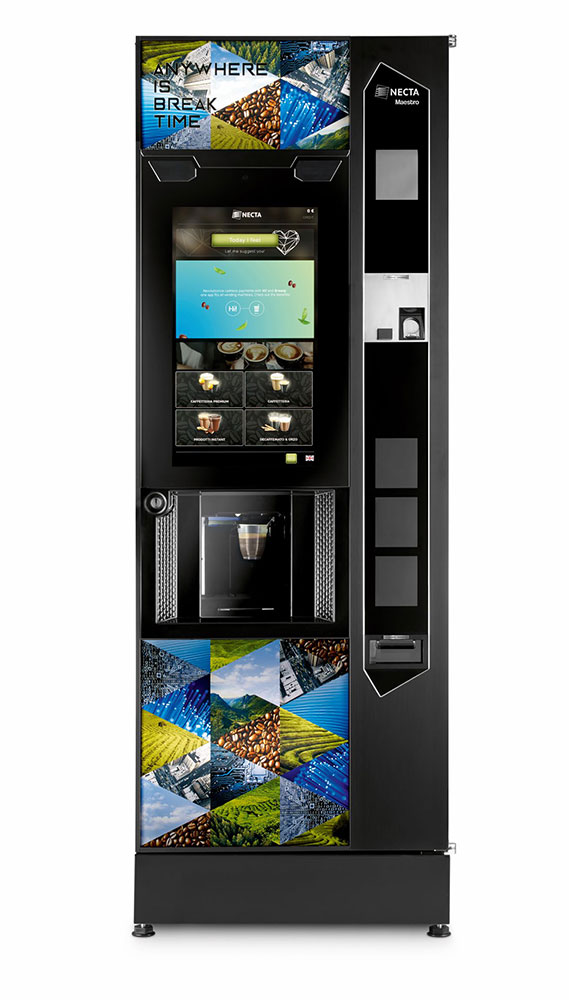 Maestro Touch focuses on cutting-edge performances and on the ability for consumers to customise their drinks and to consult nutritional information to identify the most suitable product for their needs.
Elegant, with external profiles in black anodised aluminium, black door and dark grey cabinet and a frameless, all-glass touch-screen: this is Maestro Touch, new high-end vending model for the hot drinks market.
The electronics have been completely renewed, with a latest generation microprocessor and advanced software that leads to easier machine management and programming, and to a high level of personalisation of the graphic interface.
Modern and attractive design
24″ Touch screen user interface
Integrated webcam and speakers
Coffee shop quality beverages
Customisable beverages
Twin boilers
Flexible and advanced GUI
Cup sensor
Wide delivery area
Advanced electronics
Espresso, leaf tea and 7 soluble canisters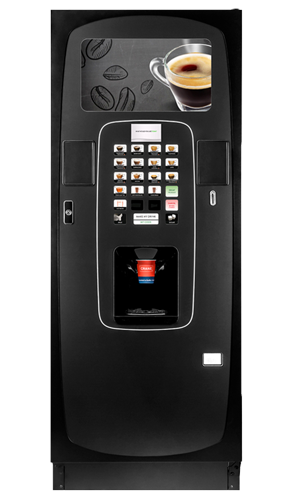 The Icon drinks machine has a touch user interface coupled with a stylish design. Robustly engineered with state-of-the-art technology. The ICON delivers each drink consistently with stellar taste, aroma, colour and appearance and will bring consumers back for more.
Barista quality coffee beverages made with real espresso, freshly roasted coffee beans. The top graphic can be customised to suit location of the machine. Optional 21″ HD colour display screen.
Fresh bean, freshbrew and instant models
800 cup capacity
Barista quality beverages
Cup sensor
Up to 3 payment systems
My Code – remembers your last drink
Direct touch buttons
Advanced electronics
82% recyclable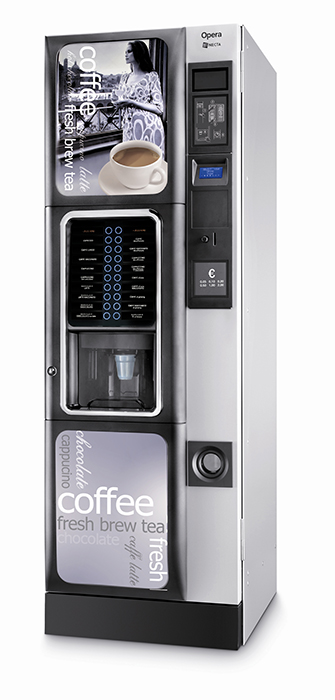 The Opera offers enhanced performance to ensure premium quality drinks with every cup and an elegant design that compliments each location.
Elegant and stylish design with backlit black and silver aesthetics makes the Opera the centre of attention in any environment. Additional lighting in the cup delivery area completes the effect.
Serving delicious hot beverages including coffee, fresh leaf tea, cappuccino, caffe latte, mocha, espresso, hot chocolate, and many more.
The 20 blue LED backlit selection buttons with blinking visual feedback make drink choice a pleasure. Large graphical interface.
Elegant and stylish design
Extensive continental visual drinks menu
Chrome effect frame around selection area
Small and compact dimensions
20 LED backlit selection buttons
Reliable electronics
620 cup capacity
9 ingredient canisters
Lit delivery area
Patented Sigma brewer

Address
Unit 1, Maguire Court
Saxon Business Park
Hanbury Road,
Stoke Prior
Bromsgrove
B60 4AD
Contact
T: 01527 388230
E: info@completerefreshmentsolutions.co.uk