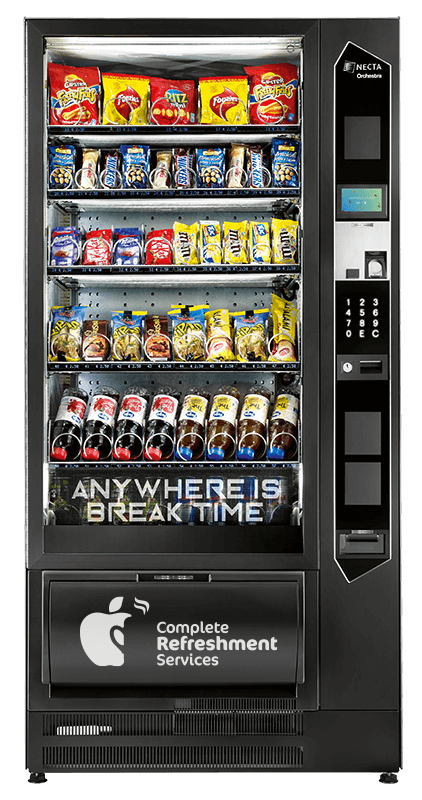 The Orchestra is the new 8 spiral machine family with incredible performance that is designed for the most demanding of locations. Among the many innovations, the transparent, modular and reconfigurable VisioShop trays and the high levels of energy efficiency.
The Orchestra has an elegant design: the black anodised aluminium cabinet features an interface area in black metal with diamond frame, which houses a wide colour graphic display together with a capacitive numeric keyboard or a touch screen selection panel.
Technological innovations, refined aesthetics, and excellent performance. 
Flexible configuration
46 product selections
User friendly interface
Large TFT display
High definition window
Numeric selection pad
Electronic tray labels
Cashless payment system
Soft product dispense
Automatic opening/closing delievry bin
High energy efficiency
Modular and reconfigurable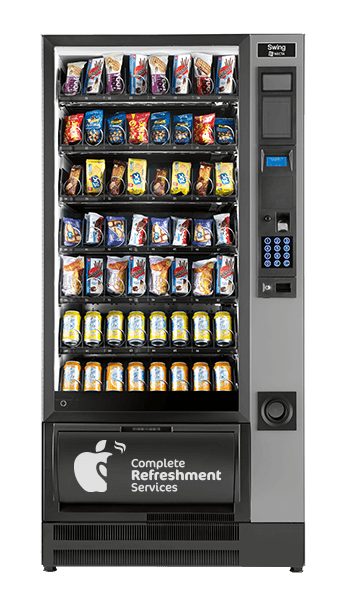 Specifically dedicated to medium locations, the Swing combi vendor is aesthetically pleasing, with an uncluttered design and a flexible configuration.
It responds to the need for a reliable, high-capacity model, compact yet flexible; which can be comprehensively customised in terms of the product offer.
The Swing benefits of an optimised and flexible internal configuration which allows the management of a many different packaging sizes and products.
Swing has reached a market-leading energy efficiency, C class.
Flexible configuration
Up to 44 selections
Vends cans, bottles and snacks
Ergonomic delivery bin
Reinforced metal cabinet
Large capacity in limited space
Numeric keyboard for selection
Up to 3 payment systems
Advanced electronics
Data retrieval system
Ambient or temperature controlled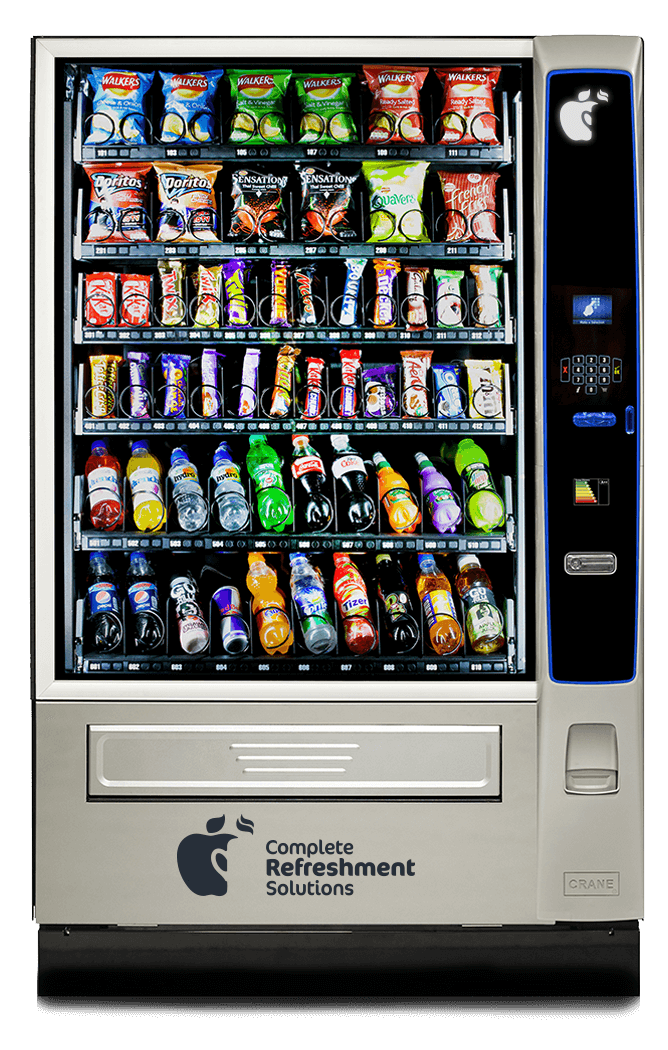 Designed with the consumer in mind, the Merchant Media 6 vending machine enhances the shopping experience by offering the largest product variety in the industry and a new intuitive interface.
A 3.5 inch full colour LCD display screen that is fully integrated with the numeric keypad. A virtual shopping cart enables users to select multiple items and pay for all in one transaction. The screen also enables nutritional information to be shown or to promote other products.
The Merchant Media 6 can vend any combination of snack, confectionery, food, bottles and cans with a maximum capacity of 564 items.
Flexible configuration
Capacity of up to 564 items
Cans, bottles, confectionary & snacks
3.5 inch colour LCD display screen
Virtual shopping cart experience
Large capacity in limited space
Numeric keyboard for selection
Duel temperature control
Advanced electronics
Nearly 80% recyclable

Address
Unit 1, Maguire Court
Saxon Business Park
Hanbury Road,
Stoke Prior
Bromsgrove
B60 4AD
Contact
T: 01527 388230
E: info@completerefreshmentsolutions.co.uk